The souks, or open air markets, of Marrakech are the largest in the country of Morocco, and one of the most fascinating places in the world to shop. Full of carpets, brass goods, antiques, spices, and leather, the souks are absolutely a must-add to any bucket list.
Getting oriented
The souks are organized by the items sold, and are each named for a specific product type you can find there. They are open daily from 9am to 9pm, and we recommend visiting in the morning or evening to avoid the midday blazing heat.
It's easy to get lost in the winding old city streets, as they are poorly marked. Locals try to be helpful for the most part, but some less than scrupulous "guides" may try to get you disoriented even further so they can pick up a tip for taking you back to the main square, Jemaa el Fna.
If you get lost, ask a shopkeeper for directions. They have less motivation to leave their shop and more incentive to point you in the right direction.
Or, alternatively, before you set out, ask your accommodations if you can hire a guide. They are extremely cheap by US standards and will make sure you don't get lost or scammed. Absolutely worth it!
I highly recommend staying in a local riad if you are in Marrakech. They are incredibly beautiful and make you feel like you are staying in a palace. Many are quite affordable. I wrote all about it in this post.
Another option is to look for official signs. They are usually green or blue. We were told over and over by guides not to trust the signs, but these official ones led us right back to the main square.
The Souks
View full map (tap star to save on Google Maps)
Souk Semmarine is probably the first souk you will encounter as you enter the maze, framed by a large iron trellis and filled with tourist oriented souvenirs.
Souk de Bijouters is the jewelry souk, marked by a sign that says Bijouterie Tegmoutiene.
Souk Cherratin specializes in leather goods, including traditional Moroccan babouches (slippers), bags, belts, purses, wallets, and anything else made with leather. Souk Smata is the main area to find babouches, also known as the slippers souk. Souk Btana is another one with animal goods, filled with freshly treated sheepskins.
Souk Chouari is the main carpentry souk, primarily with goods made of fragrant cedar wood. Souk Haddadine is the blacksmithing souk, with craftsmen clanging away. Souk des Chaudronniers is the coppersmiths souk. Souk Kimakhine is where Moroccan and Gnaoua instruments are sold.
Souk des Teinturiers isn't necessarily the best souk for shopping, but has the historical dying center, where wool and fabric can be found drying along the streets.
Tanneries
The tanneries are in the northeast corner of the souks, so make sure to get a guide if you plan on heading there, as well as making sure to wear shoes that you don't mind getting a little dirty. It's an amazing experience, but it is a working tannery, full of animal hides and fats all over the ground.
Your nose will tell you when you get close to the tanneries, and the proprietors offer fresh mint for you to breathe from as you walk through the tanning vats.
Ensemble Artisanal Market
This artisan market is a good option if you are intimidated by haggling and still want fine crafted good. The prices are set maybe 35% higher than what you would pay in the souk after haggling, but the goods are extremely high quality.
Notes on haggling
As a rule of thumb, always be prepared to haggle. The haggling culture extends back thousands of years – just roll with it!
Merchants will always give you a ridiculous first offer and will expect you to bring it down. Try to aim for 25%–30% of their first offer. Never offer a price you are not willing to pay – that's bad manners!
For services such as guides and cabs, try to agree to a price beforehand and stick to it. Cabs in particular will often try to revise the price at the destination, so just pay and leave.
Shop Moroccan style:
Book a small tour to see the best of Marrakech ›
Have any stories to share about your visit to Marrakech? Head to the comments and post it up!
---
Pin it: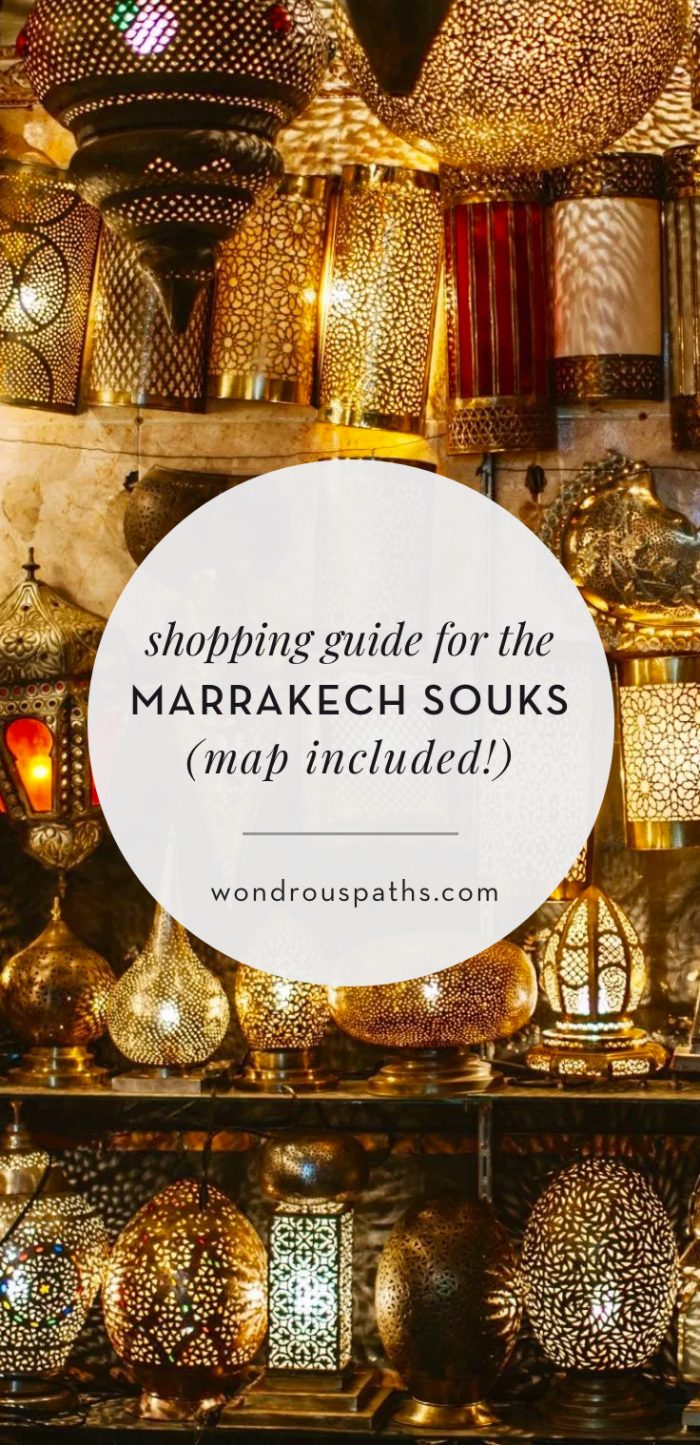 Disclosure: This article contains affiliate links. While I only ever write about products I think deserve to be on the pages of our site, Wondrous Paths may earn a small commission if you click through and buy or download the product in question, at no extra cost to you.