Picture yourself sitting on the tatami mats in your private room, enjoying a cup of tea. You step out on to the deck of your private garden and slip out of your yukata nightrobe for a nighttime (or daytime) dip in your private tub, surrounded by a bright green carefully sculpted and curated garden. What more could one ask for?
What is a ryokan?
A ryokan (旅館)  is a traditional Japanese inn that customarily features tatami-matted rooms and communal bathing. These inns have typically existed for hundreds of years … the oldest ones are considered the oldest hotels in the world, founded in 705 A.D. and 718 A.D. respectively. Ryokan such as these were founded to serve Japanese travelers along their highways and government routes.
Most ryokan are located in rural areas for spatial and scenic reasons. In fact, beautiful scenery is considered one of the main architectural features at many of these old hotels.
What to expect
When you enter a ryokan, the hoteliers will usually take your shoes and hand over house slippers for you to use throughout your stay. You are also encouraged to wear a house yukata, similar to what westerners think of as a kimono but with more of a nightwear/nightgown/bathmat vibe in terms of formality.
The floors are covered in tatami mats, and the tables and chairs/cushions sit close to the ground. Doors tend to be made of paper and wood, and slide from side to side. Beds are typically Japanese futons, which are rolled out by the staff at night for the guests.
Most ryokan feature seasonal chef's choice meals (kaiseki) either served in room or in a public area. Different ryokan may specialize in different types of cuisine.
Ryokan also typically have onsen, or public baths with water from hot springs near by.
Onsen etiquette
There are two types of hot springs / bath experiences we will talk about in this post: public and private. Public onsen are typically gender separated (ofuro) and fully nude. It is customary to wash yourself before entering the bath, and keep your hair out of the water for cleanliness reasons. There will be faucets and shower heads you can use beforehand.
Private onsen are a bit different. Many ryokan and hotel let you book one of their facilities for private use of about an hour or so and for a fee. For an even higher fee, you can have a private hot tub or soaking tub in your suite or room. Many of these rooms feature amazing views of the surrounding countryside or small private gardens, and I highly recommend booking one for at least one night if your budget allows.
Many people ask about tattoos and onsen. The Japanese have a long history about their attitude with tattoos. You can read extensively about it here. You might have an easier time booking a room in a ryokan, as they are hospitality focused and many are much more foreigner friendly than a public hot spring. You can look into covering your tattoo if you'd like to visit a public bath in your ryokan or elsewhere, or you can book a private onsen or a ryokan suite with a private open air hot tub. I recommend checking this site for tattoo friendly onsen.
Ryokan near Kyoto
Momijiya is located on the east mountain side of Arashiyama in Takao. This charming ryokan is accessible only by private wooden suspension bridge. There are public ofuro as well as ryokan with private onsen open air hot tubs in many of the suites. These are powered by heated water rather than hot springs, but offer an affordable luxury experience compared to some other ryokan.
Kaiseki can be served within your room or in the communal area alongside the river with entertainment by a maiko (junior geisha) during certain seasons. Breakfast is also included.
Check dates for Momijiya Bekkan No Iori ›
English Address:
32 Umegahata Mikyosaka-cho, Ukyo-ku, Kyoto, Kyoto, Japan, 616-8289
Nearest Transport: Shuttle bus available through reservation.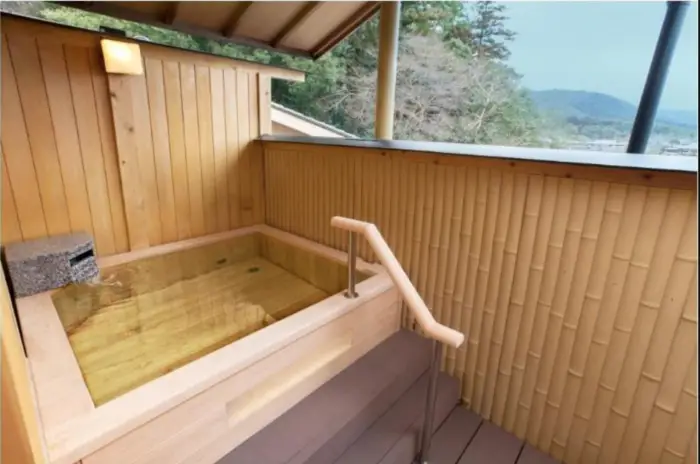 Hanaikada Ryokan is also located in Arashiyama, close to Togetsukyo bridge. This onsen features natural spring hypotonic alkalescent water (I have no idea what that means but it sounds fancy) with three different open-air public baths and a private open-air bath available for reservation for 1500 yen per group per 40 minutes.
Kaiseki course dinners and nabe hot pot dinners are available depending on the season.
Address: 57 Arashiyamanakaoshita-cho, Nishigyo-ku, Kyoto-shi, Arashiyama, Kyoto, Japan, 616-0004 
Nearest transport: Saga Arashiyama Station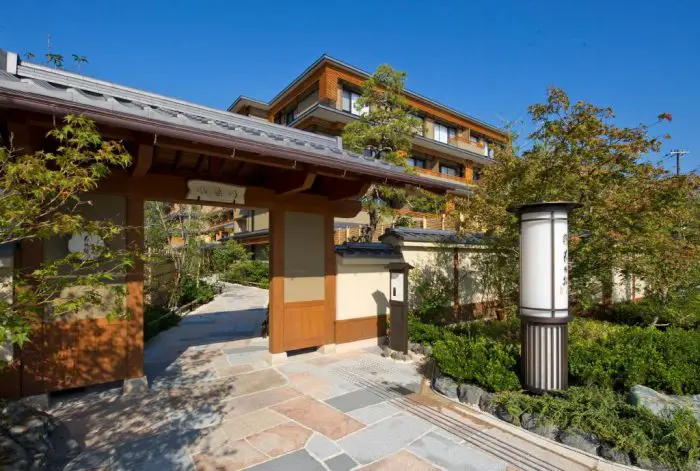 Kadensho is a luxurious and authentic onsen and ryokan in Arashiyama. The rooms are available in three styles: Kyoto house style, Kyoto-style, and Modern Kyoto style in varying levels of authenticity and western-eastern fusion (such as rooms with tatami mats and western beds).
There are two public baths, five private baths, and even napping areas and a bar. All baths feature natural hot spring water.
Address:
5-4, Arashiyamanishiichikawa-cho, Arashiyama, Kyoto, Japan, 616 0003
Nearest transport: Saga Arashiyama Station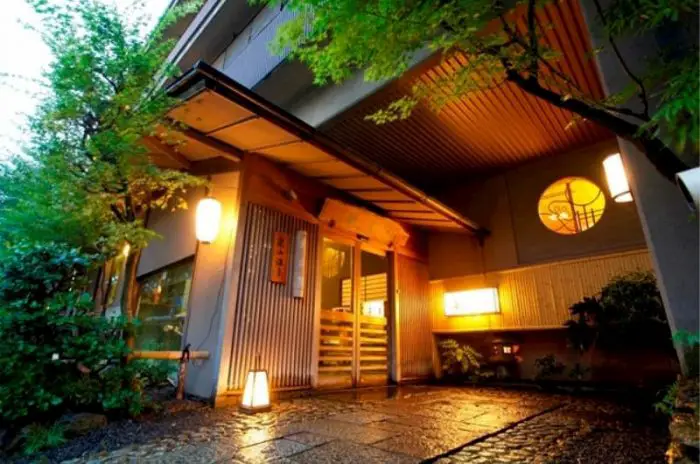 Togetsu-tei is another traditional ryokan located on the east side of Kyoto in Arashiyama. Founded in 1898 during Meiji era (1868-1912), many of the suites feature the coveted open air private baths and each stay includes the customary kaiseki (chef's choice) seasonal dinner with your stay.
Pared-back rooms include tatami floors, chabudai tables and futons, as well as free Wi-Fi, TVs and minifridges. Some have terraces with open-air deep soaking tubs and river views.
Address: 54-4 Arashiyama Nakaoshitacho, Nishikyo Ward, Kyoto, 616-0004, Japan
Nearest transport: Saga Arashiyama Station
If you'd like a tradition ryokan luxury experience without having to leave Kyoto, look no further. Gion Hatanaka is located in the world famous Higashiyama district/neighborhood of Kyoto.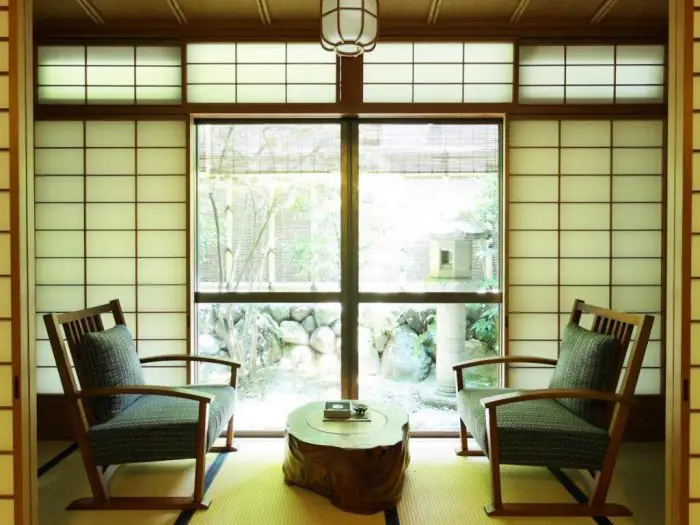 The Gion neighborhood is a short stroll away, complete with geisha and maiko—geisha in training. Please be courteous if you do see a geisha (although these days it's highly unlikely.) Don't take a photograph unless you have explicit permission and especially don't touch them! They are most likely trying to get to work.
Gion Hatanaka is a very foreigner friendly ryokan with private onsen tubs in every room as well as a large communal bath.
Make sure not to miss the group kaiseki meal, often hosted by several maiko! This is a very affordable way to get a glimpse of the geisha world. They might even play drinking games with you.
Check dates at Gion Hatanaka ›
English address:
505 Gion-machi minami-gawa, Higashiyama-ku
Nearest Transport: 
10min walk from Gion Shijo Station, Keihan line or Kawaramachi Station, Hankyu line
Ryotei Rangetsu offers a traditional Ryokan experience as well as the holy grail of rooms: the open air bath. Picture yourself in a large porcelain outdoor hot tub, surrounded by a serene Japanese garden. Heavenly.
After a deep soak, you are provided with your included multi course kaiseki meal directly to your tatami mat room. Three of the rooms at the Ryotei Rangetsu offer an included private outdoor hot tub and garden. I can't recommend this quintessential Japanese experience enough!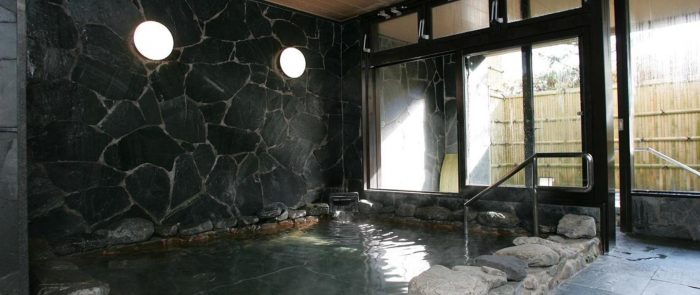 Ryotei Rangetsu is located in Arashiyama, the eastern part of Kyoto, along the Origawa river.
Address: 616-8385 Kyoto, Kyoto, Sakyo-ku Sagatenryuji Susukinobaba-cho 7, Japan 
Nearest Transport:
15 mins from Saga Arashiyama Station on the JR Sagano line, or 7 mins from Arashiyama Station on Keifuku line.
If you are looking for more of a hybrid Japanese-Western hospitality experience, Suiran by Marriott might be for you. This Japanese villa features a slew of different suite style, from Japanese inspired Western rooms to traditional Japanese futon suites to presidential suites with open air baths overlooking the Hozu river or the nearby mountains.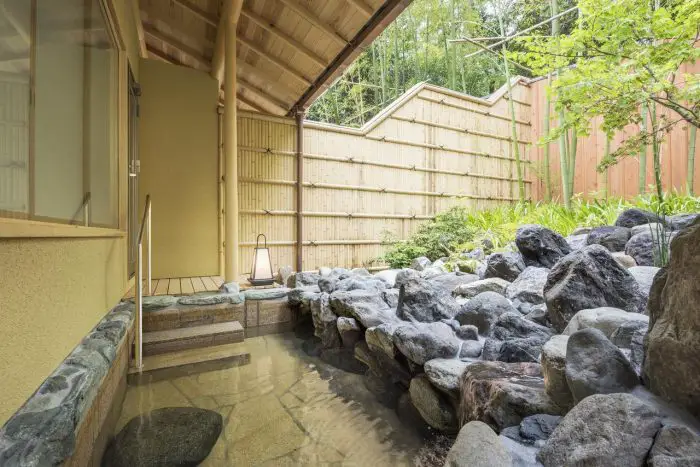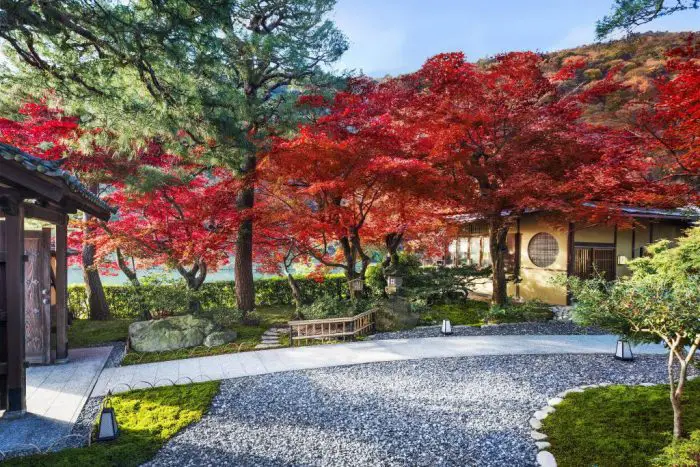 Suiran bills itself as a "modern Japanese experience", which translates to large rooms with Western style beds for the most part. If the idea of eating and sleeping on the floor doesn't appeal to you, this resort may be worth looking at. Personally I didn't mind sleeping on the Japanese futons (they were quite comfortable), but if mobility is an issue it might not be for you.
Address:
12 Susukinobaba-cho, Saga-Tenryuji, Ukyo-ku,, Arashiyama, Kyoto, Japan, 616-8385
Nearest Transport:
Suiran offers complimentary taxi or rickshaw service from the local nearby Arashiyama stations. You must book transport three days in advance of your stay.
Know any other great places to stay in Kyoto? Feel free to leave a comment and let me know!
More places to stay in Kyoto:
Shop:
Pin it:
Images via Agoda.